These 2 last days were full of informations and very nice dives...
after a day of rest I decided to go back to training.
I headed for a 84m dive in CWT. Unfortunately I had to turn earlier because of poor equalization.Finally, my gauge will show 79.3m. Not so far from the bottom plate. I feel very easy about apnea time, but still to focus on my mouthfill technique.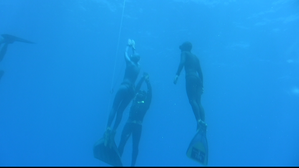 The same day, Natalia did a 94m dive in CWT. Her dive was succesful, but she apparently suffered of embolism while reaching the surface. People said that she was doing strange uncoordinated movements.
It looks like that it is not the first time she is having this kind of severe trauma. A recent IRM showed spots on her brain due to these 'bad' dives.
The future will tell us if she keeps on diving like that or not.
Endangering her health for sport.
Julie did an easy 57m dive following her improvment, and Bérangère is working more and more on her depth technique, taking time to go deeper.
Yesterday, 2 freedivers were on the focus : Stavros and William.
Stavros did a succesful new National Greek record in No limits to 126m.
Congratulations to him !

William failed to reach 120m in Variable, he had to stop to 111m due to bad timing on equalization. his goal was to set-up a new canadian record in VWT
Herbert is training each day, spearfishing the evening. No day rest. But he is experiencing some equalization problems. he then does not go as deep as he would like to. Incredible how he can afford spending so much time in water doing so much efforts, without being tired...
Anna is doing an new National record attempt in VWT today.
What comes next :
Carlos Coste just arrived and is apparently here for a new WR (world record) in FIM.Guillaume is also motivated by FIM (coming tonight) , as well as Herbert :-) !
Yesterday, after training i went back to spearfishing with Alexis. We had the chance to find a nice Dentex spot.
A 20-30 school of 6 kg dentex were waiting for us at 30m. I unfortunately missed a shot on one of them. Alexis missed also a big grouper.We will come back later...
As for the dentex, resting the day and fishing at dusk and dawn, I am resting today
Tomorrow will be a training attempt day