New World Record -95m for Natalia Molchanova !
After some days of training in this beautiful spot, all the athletes finally arrived in Sougia.
Herbert finally missed one attempt of VWT World record attempt to -142m due to bad equalization.
Anna Did a nice 80m VWT new German Record, with her usual nice smile.
I personnaly experienced a bad series of training dives, always limited by equalization.
First day of competition
The list of athletes is impressive for this first edition of the competition
The winner of the competition will be the one totalizing the max amount of points.
Wave and current are present, the conditions are far from ideal.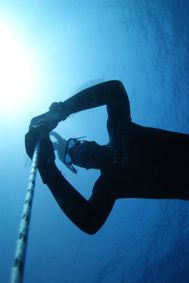 For this first day, Bérangère begins first and does a very nice 41m in CWT.
Congratulations Bérangère !
Anna fails her dive, as well as robert.
Julie comes with a 68m announce. That's a potential new French record for women... That she easily does.
Well done Julie !
After some local greek freedivers diving (check their results on the competition site), I realize a good 76m dive, as announced.
I am happy with this 'easy equalized' dive. I am finally surprised by the bottom weight with some more equalization to go. I will try more the next days...
Following me, William misses is 90m in CWT attempt, with an early turn.
Alexei does a very nice 91m in CWT setting up a new Russian record.
Guillaume, just after him does an easy 92m dive... very good level these days for Guillaume.
Here comes Natalia ... 95m attempt in CWT, that's huge, and the waves and current are strong. We know she can make it !
And she finally does it. We meet her coming back on the beach. Looking a bit tired but very happy !
Incredible Natalia, congratulations to her !
Next step the 100m ? on Sunday ?
Carlos misses is 98m FIM try with a good samba (4'20'' dive a bit too long ?) , and Herbert does not show off for is 104m CWT dive.
Still 2 days of competition to go, The next days will be hot !
For the all details of the ranking you can go on :
http://www.freediving-club.gr/index.htm