Welcome to Sougia,

small fisherman village from the South of crete.
I arrived 3 days ago, with Bérangère (Natalia Molchanova joined us at the airport), and we are immediately welcomed by Stavros and all the freedivers team. William Winram is here with Herbert Nitsch, Robert King and Anna.
They are all eating huge pieces of grouper taken by the safety divers of the competition. All experienced spearfishermen from Crete.
What a wonderful welcome to come and eat 'steacks' of groupers and Feta salad in a warm wind coming from the sea. Pure pleasure.
We are all here to attend the 1st international mediterranean meeting organized by Stavros Kastrinakis, and to train and have fun all together.
Conditions are perfect to train : 24°c water temp, more than 40m of visibility (!!!).
All the safety set-up is here and perfectly managed.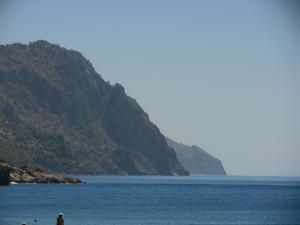 After a 1st day of acclimatation, with small dives. I realize an easy 74m dive in CWT. Good feeling and pleasure. the light is incredible down there.
We are in the Big Blue

The dark blue is perfect and the sea is calm, the visibility is incredible.
I like that very much.
on my side Natalia does a good 80m in CWT dive... Target is clearly 100m for her, soon.
Julie does an easy 45m dive, and Bérangère tries to find her mark here, 34m... Deeper later.
Herbert does a 108m dive in VWT, with some technical problems (lanyard blocked), bad feeling for him :-(
Maybe the smell and the place reaminds me my childhood, when we were coming in greece in summer vacations, going from a fisherman village to another.I know theses places and i suddenly remember some words of greek that i can use.
After some hours I make friend with the very nice and gentle greek team. Spearfishermen recognize each other soon ;-). We will soon go spearfishing together in the depth of the crete to try to get some big fishes to eat...