World depth championships part 4 – Mediterranean world cup
Before the official start of the world championships, we were training within the organization of the mediterranean world cup. After 10 days of training days we had the opportunity to perform 'official' dives. 3 days of competition in a row to test ourselves.
It is really a good opportunity to check if our training is on the right way, and if we are on schedule for our objectives.
We were a significative amount of athletes competing within this competition having test targets more than a real final result for the World cup.
For this reason, a lot of dives were failed due to different reasons.
On my side, after 2 successful dives at 100m in mixed disciplins (CWT and FIM together) in training, I felt that it was the right time to check myself in the Constant Weight disciplin at this depth of 100m.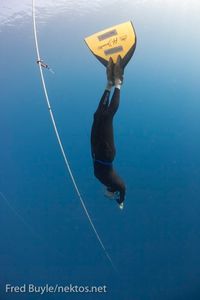 Going to 100m in CWT
I failed after a hard mental dive. I went there, got the tag, and struggled mentally the all way up. I inverted then the surface protocol and got a merited red card for this dive. I was very close to do it, but felt unhappy about the way I had to struggle the way up.
The next day, I decided to try 98m in FIM, but failed too, early turn at 86m, too tired...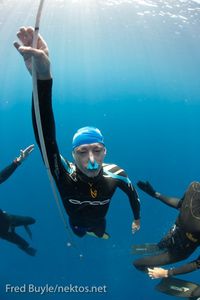 Back from 100m - unfortunately, I failed the surface protocol
These 2 dives were coming after 14 days of training. Too much, for sure, to go for a 'clean' and appreciable dive. I then decided to take a serious break !
On the competition side, many athletes turned earlier and missed their dives, probably for the same reason. A few of them succesfully completed their dives.
Within the french team Morgan did a very nice 80m in CNF, Brigitte too with 51m in CNF and Aurore with 73m in CWT. The three secured a new National Record in these disciplins.
The final results of the med comp are below. One can notice that our corsican friend Philippe Taglioferri takes the 3rd place of the competition. A merited place for is regularity, well done dude !