World depth championships 6 – 101m & Bronze medal
Constant Weight Day.
After some discussion with my coach, Cyril Paulet, I decided to announce 101m in CWT... I have been to 100 & 101m 4 times in training, and think that I can do it again, even with the competition stress...
On the start list I am the 7th announcement. No stress. My start is early in the morning. Coldness from the previous days storm is still here, and water is fresher than usual. With a no warm-up dive, I decide to take an option that will ensure not to get cold before my dive. Some waves are unusually moving the water surface at this time.
Stress is easy to capture among the present competitors. Just before my dive, one does a black-out in front of me, I stay calm and focused...
I go, and after 3'17'' come back at the surface with the white tag. 101m done !!!!!!! So Happyyyyy !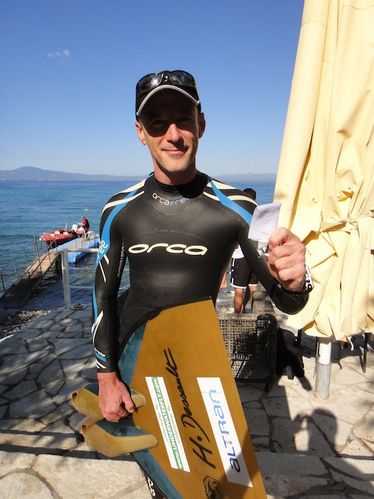 Coming back on shore I begin to realize that some athletes have missed their dives and that I might get closer to the podium... After a full day of waiting for the final results. It comes officially :
I take the bronze medal of the world championships in the Constant Weight Disciplin !
On the french team side, Guillaume takes the gold medal after a dive at 117m, Morgan does a nice 92m dive and finishes 7th.
Aurore does a new national record with 75m and finishes 5th, Solenn with 58m is 12th and Alice with 57m finishes 14th.
Congratulations to all my teammates for these amazing results, and a big thank to the coach Cyril, and to Florent for his coaching on the dives !
The french team is on fire, 3 medals in 2 disciplins runned, these are unexpected very good results !
Next Disciplin coming is the Free Immersion, that will close the world championships... Stay Tuned !