World team Championships 2010 – The story – part 3
3rd discipline : the dynamic with fins : go as far as possible on a single breath.
The 50m pool of Okinawa is warm and offers a good glide.
On the men side, the very short difference of points between the 4 first teams offers a breathtaking experience to come.
First to go, the Danish want to perform without stress and put pressure on the coming teams. They set-up top level performances with 208m, 229m and 229m, taking a major advantage for the final win…
The Japanese come next and perform very well too, with 3 performances over 200m.
Then comes the French… Things are not easy, Guillaume did a very nice 175m dive, but still, there are so many points to do to go for the gold, the task is impossible.
The silver is far, but possible, with exceptional performances of Fred and Morgan…
This option is preferred on a 'safe' 3rd place. Goal is to realize 210m for Morgan and 250m at least for Fred.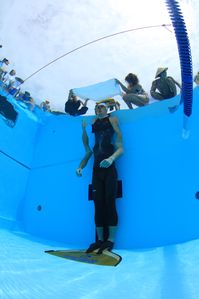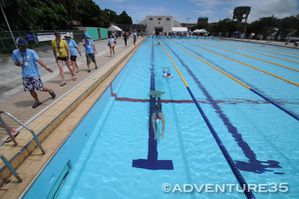 Morgan goes for his dive, and comes up at 210m, tired, and at the limit, he inverts his surface protocol, forgetting to make the OK sign before saying I am OK… That's a red card… The podium is over for the frenchies !
Fred is following and knows that he can not go for a podium anymore. Only target can be, for him, to go for a new world record in this discipline (250m up to now). Off he goes… After the 200m turn, we all yell and shout to support him, he reaches the 250m wall and… turns. He still seems ok and in control.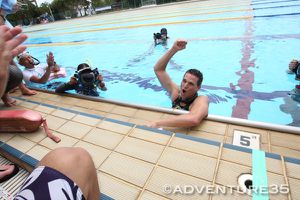 After a few meters, he goes out, secures his surface protocol, 255m, white card. That's a new World Record for Fred Sessa !
Well done for this incredible and amazing dive, buddy !
The french men team ends-up at the 4th place. 1st are the Danish, Japan takes a nice 2nd place, and the finnish take the bronze medal.
For the women, the game is not the same. Ranked 5th and last, with a lot of points behind, tehy can go and do what they want, with no big calculation... And the 3 girls do it right :Julie does a nice 165m dive, Aurore 137m, -10m penalties on a small error.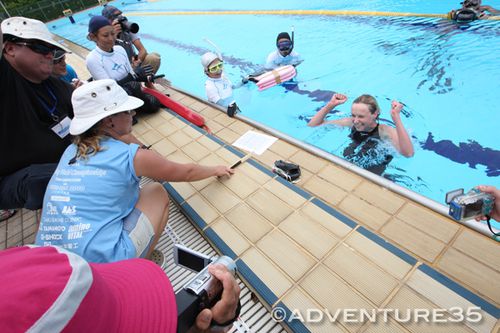 And finally, Alice Modolo, very strong, does 173m and secures a new national record in this disciplin... Well done.
The french women team ends-up at the 5th place.
1st are the incredible Japanese with very strong and solid performances, Russia takes the 2nd place with only 0.8 pt difference, and the amricans take the bronze medal.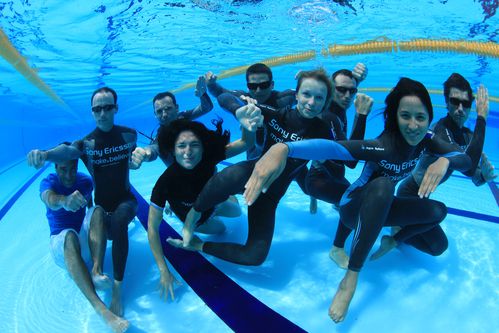 Credit photos : Alexander Abela