World depth championship part 2 – First dives in Kalamata
The Messinian bay is a wide bay, protected from most winds, where Kalamata takes place. The freediving dive spot is only a few 100 meters offshore from the hotel. A boat comes to pick us up at the hotel pier, and brings us in 5 minutes at the spot.

Conditions here, are very good : 27°c water temperature, good water visibility and impressive organisation for all logistic and safety provided by Stavros Kastrinakis and his team.
I am happy to be together with some members of the French national team that are also already on site : Guillaume, Florent, Morgan and Patrick.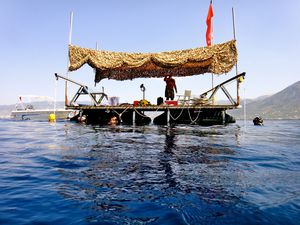 3 first days of training, to take the pace of the training and the 'freediver's life'. Feeling the atmosphere surrounding us, taking my marks on the lines and in the deep blue here...
These 3 first days of succeeded dives, provides me more confidence for the next days that will be dedicated to increasing depth on the line...
For those who still did not see this video on Facebook, here is the first part of The french National team in Kalamata, and appreciate the high level training :-)
Stay Tuned !