WC2009 part 5: Constant With Fins qualifications '-97m'
After this first round of qualification, we had a 2 days break to relax and get rid of the tireness and stress following the previous qualification heat.
Then came the Constant weight 'with fins' qualifications
This monday 30th of November was CWT women's qualifications heats :
No french women represented during these qualifications, but a big serie for the girls.
Finally, in the top ranking, one can find far ahead Natalia Molchanova, then comes Sarah Campbell and Jarmila Slovencikova not far.
Dive were safe and quite well managed in comparison to the CNF 'bad serie'
Actually Natalia Molchanova is so far ahead that nobody sees how she could be defeated in final. Then Sarah should take the silver. But the battle for the bronze medal stays quite open...

This tuesday 31st of November was CWT men's qualifications heats :
This day we were 4 french to take the start with the following announced performances :
. Morgan Bourc'his - 88m
. Patrick Poggi - 90m
. Guillaume Nery - 102m
. Christian Maldamé - 97m
The conditions are now almost perfect in the blue hole. the sea is calm, the visibility is now high (>30m) and the blue is deep.
We all focused during this all year on THIS dive, a deep dive down in this incredible 'blue hole' cave. A full year of training to be at the top this particular day
Pressure and stress is at the top, but we all worked out hard to be able to cope with that.
We managed to rest the day before and do Yoga exercises, stretching, mental relaxation, meditation to help us to release this pressure.
This is D day and we all go for it...
In my case, I feel good, well prepared. My max dive in training was 95m. But, I felt that it was a safe and a 'quite easy' dive. I just want to focus on pleasure and technic, and try to do my best.
3' before my start, my official top is delayed slightly, and I do my duck dive...
the first 30m, I push hard with my monofin and then slow down more and more. I realize that my nose clip is leaking sligtly (I am losing some small bubbles each time that I equalize).Nothing to do for that, too late, I am in the dive...
At 35m, one strong breststroke arm pull and I begin to sink. I am in the 'freefall phase', my speed is accelerating and I focus on relaxation and equalization.
Depth narcosis comes slowly and I see 'strange pictures' crossing my eyes shut... I keep on sinking and relaxing.
Around 85m, I lose my last equalization air. Ooops, am I going to be able to do it ?
On a strong diaphragmatic effort, I can get a last very small equalization... I know that this is my last possible one.
I am around 90m and 2 seconds after... I hear the beep of my depth alarm. I am almost at the bottom plate.
Here I am, 97m under the sea. A fast and efficient turn, grabbing the tag, and, I give full speed back to the surface.
At 50m I begin to slow down. I feel good and I want to keep my last oxygen storage until the surface.
Last 20m I finally can see 'a human presence' with the safety freedivers coming, Nice to see them ! I slow down considerably, I almost can let me float back to the surface.
I reach the surface, take my time to breath, do the protocol to the judges... I feel good and show them the tag !
Yess, validated and safe, that is a very nice performance, -97m, very close to the 100m mythical limit !
I feel very happy about this very good dive.
On the start list I was Number 8, an error from Ryuzo Shinnomiya (early turn at 90m) will allow me to finish 7th on the ranking of the CWT. Not enough to reach the best 6 final.
But still I finish seventh of this world championship event in this 'high depth' disciplin, which is, for me a very good result.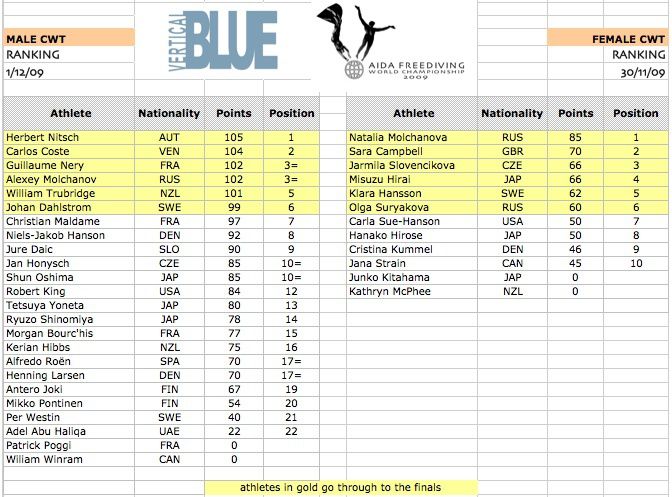 On the french team side, Morgan unfortunately had to turn earlier due to equalization problems (turn at 83m).
Patrick misses is 90m attempt and gets a redcard.
Guillaume does is best dive in competition with a very strong 102m

Check here the interview of the full french team
Ahead, the dives showed very strong Herbert Nitsch, William trubridge, Carlos Coste and Alexei Mlochanov.
Johann Dahlstrom does a nice 100m, but, as he loses the tag during the ascent, finally gets 99 points.
The final will be breathtaking, but still, Herbert seems to be quite comfortable, and I do not really see who will be able to bother him to get the gold. But for the rest, everything stays open !
Tomorrow, thursday morning, is the great final of CNF...
I can tell you now that I announced 75m, everything stays open, stay tuned !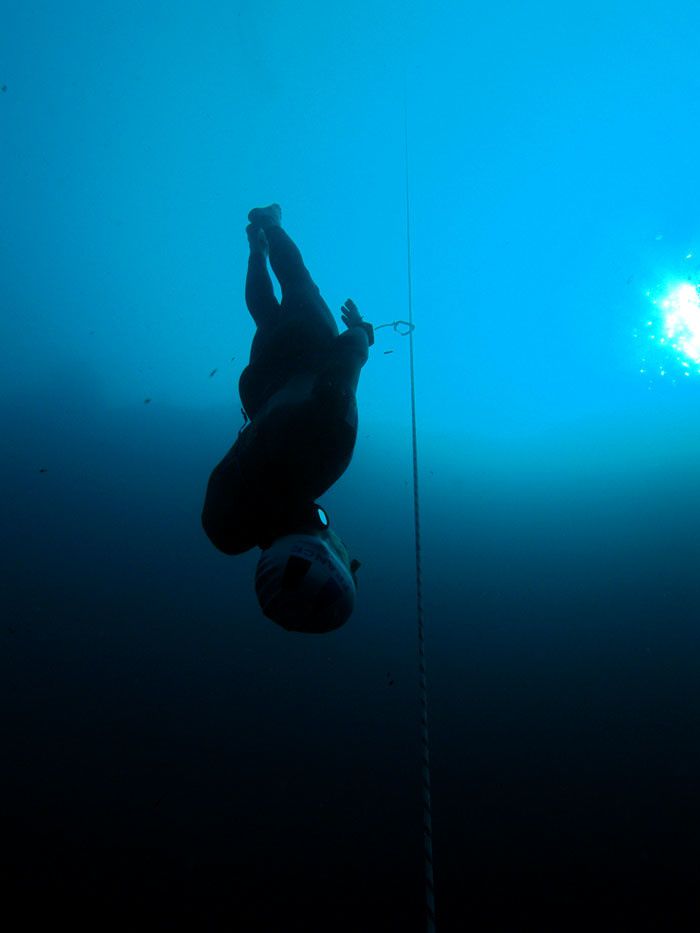 Picture by Igor Liberti