I am in the Blue hole again this monday 26th of October. This day again, the conditions are so fine that it pushes me to try something.
After a big week of full training, I would like to go to funniest dives, and not dive only for depth...
Each sport as its legendary spot :
In alpinism it can be 'the Eiger's north face', in sailing 'the Horn Cape', in freeclimbing 'the Nose' in Yosemite park In surfing 'teahopu' ...
Being part of this sport tribe, at the top, implies, that one day, you will face this incredible challenge surrounding this legendary spot.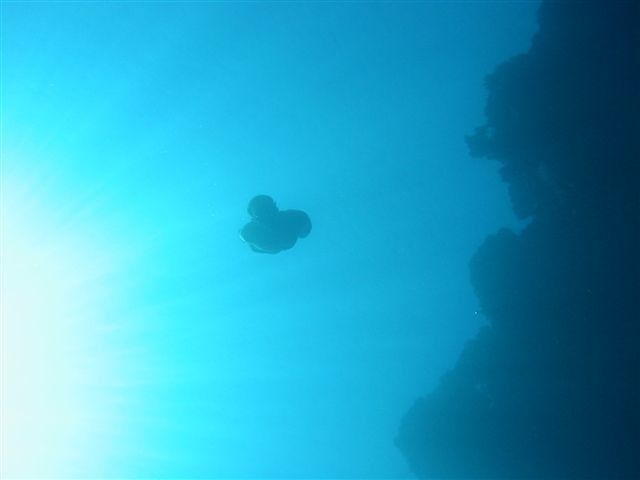 In freediving we have ............ 'THE ARCH'
The blue hole is were 'THE ARCH' takes place. This 'ARCH' consists of a gigantic tunnel of 30m length, at 55m depth. This is the underwater aperture between the 'bluehole' and the open red sea.
Doing the ARCH on a single breath is an incredible challenge. you have to go as deep as 55m at least, swimm 30m horizontally, and swimm back a minimum of 55m to the surface. This all, avoiding the coral reef.
After a certain point, you have no possibility to come back, no safety can be provided down there, and the surface safety on the exit is very hard to organize, as nobody knows where you are going to swimm up !
This is now a Mythic dive for freedivers. Only a few freedivers in the world have done it, and a very few have done it with no other help than their own msucles (some have done it with an helping variable weight for
the descending phase).
This day I decided to do it, with the help of my monofin only...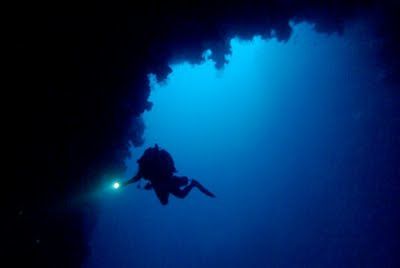 Scuba diver in the arch

I am the first native french to have succesfully performed 'THE ARCH'

This dive was great and amazing.
After a slow descent, a quiet freefall phase, I slowly entered the ARCH between 45 and 56m, I swam horizontally quietly within the ARCH.
At that time a school of huge Trevally fishes were just under me crossing the ARCH too, I was crossing schools of fishes and reached the end of the 'tunnel'.
Reaching this end, I left the dark glowing blue of the ARCH to reach the open red sea and began to swam up. Unfortunately at that time, I was not able to locate the line that my friends had set-up, to guide me for the ascending phase and to help them easily safety me. After a while I saw this line, and joined it for the last meters of the ascent !
Coming out to the surface, I yelled a big 'Yesss', so happy to have done it....
This dive was great.
I am now appreciating the incredible pleasure of having achieved such a challenge.
I still keep in my head this incredible vision of this underwater ARCH.
This dive would not have been possible without the care of top safety buddies.
I really thank warmly Patrick, Akim and Per that helped me to achieve this dive... Thanks guys !

Pics by W. Timmermans and myself