Hard Training Camp in Font Romeu
Train high and increase your fitness level... Centre National d'Entrainement en Altitude - France

Organized by Fred Sessa and David Guarrigue from the Apnéeau Team from Sete, this Altitude training camp was based on an intense sport training program.
This site is hosting top level level sportsmen that come there for an intense training session. We managed to take a picture here with Huges Dubosc (2 time bronze medal in the olympic games in breastroke swimming), that was training on the next swimmlanes in the pool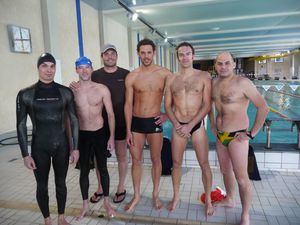 4x2h sport session per day composed of pool training (apnea and swimming), snow work (cross country ski, walking or snowshoeing) and fitness.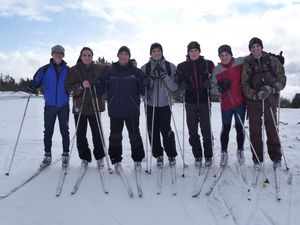 beginning of the sessions at 6 AM, with only small breaks to eat or rest...

With Fred, David, Cyril, Morgan and Florian we managed to share our experience within the trainings.
We pushed ourselves to the limit, but finally found us quite resistant to such an intense training...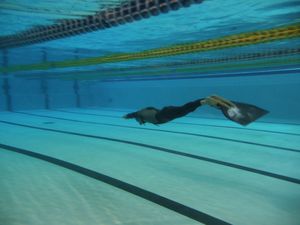 A final snow climb to 2 small local summit brought us a lot of positive feelings and fun together !
For me, at this time, it is difficult to really measure the advantages in term of apnea.
I still need to take some time and rest to measure the winnings. But for sure, the team building and friendship sharing was great !
Thanks to Fred and David for these great moments spent together

All pictures by David Guarrigue, our official photographer ;-)