Winter/spring Indoor Competitions
3 competitions were on my roadmap for this end of winter and beginning of spring
Besançon Indoor Competition - 2° manche Coupe de France
This competition under the FFESSM rules hosted more than 70 freedivers that came from all France.
Some reknown freedivers of the FFESSM/CMAS circuit where here, such as Christophe Bruel and his teammates from Toulon, Georgette Raymond,...
On my side it was a come back to indoor competition after a 10 month break.I wanted to make a first test to be able to set-up my next competitions in a good way.
The pool was a 50m one, with a shallow (1m) and a deep part (4m), which finally makes it harder for the good balance and glide of the dynamic performances.
FFESSM rules does not allow coaching and time indications during the static performances, which finally does not help much if you want to be target oriented ;-). In the end this first try was a full success for me.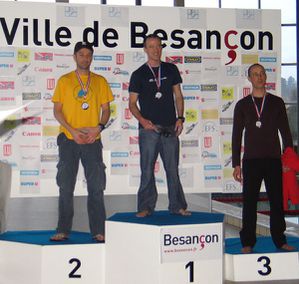 For the static women:
1 Joelle HOFFMANN with 5min 21
2 Anne BORGAT with 4 min 54
3 Georgette RAYMOND with 4 min 32
4 Graziella RIVAULT with 4 min 29
5 Marie Pierre BOIVIN with 4 min 10
For the Static men :
1 Christian MALDAME with 6 min 44
2 Christophe BRUEL with 6 min 32
3 Francis LE GALL with 6 min 24
4 Jérôme CHAPEL with 6 min 01
5 Florian GERAULT with 5 min 29
On the dynamic with fins side, a breathtaking last heat with Christophe Bruel and myself leaded me to win with only 70cm more than him at more than 179m. One can note the good performance of 'padawan' Stephane Tourreau, with a performance close to 150m
The last heat of the dynamic without fins was going to determine the overall winner of the competition with a face to face between Christophe and myself
My goal was to go slightly longer than him if possible... And I managed it succesfully with a distance of 134m, Christophe does a nice 110m and take the 2nd place.
Finally, Nicolas Tallaron takes the 3rd place with a close to 110m dive, well done Nicolas !
I then finish first of all the 3 disciplines and thus wins the overall ranking.
You can find the full results at this link :
http://apneeffessm.free.fr/spip3/spip.php?article112
Massy Indoor Competition - 3° manche Coupe de France
Just 2 weeks after, the Massy 'Apnéattitude' club was hosting a reknown competition that is now alive for several years and has been under AIDA and FFESSM rules. This year it was under FFESSM rules...
My goal here was to increase my level in comparison to Besançon competition, and score some good points for the next coming competitions.
Most of the best freedivers of the french circuit were here, and then the level was quite high.
A very succesful competition for me in the end :-)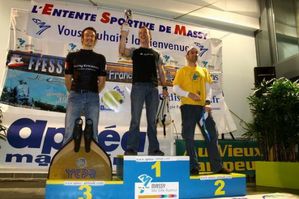 Credits photo J. Vigoureux Pelletier
The static event began with a good set of performances. Jean-Michel Pradon takes the lead with 6'54'', only 1s ahead of 6'53' performance, Morgan and Christophe Bruel are not far behind announcing a tight face to face between us
The DYN comes, and I take this opportunity to take the lead with a nice 200m followed by Morgan and Christophe in the 180s.
Thus, I am now at the head of the comp, Christophe follows me, and Morgan is not far.
After a quick calculation, I decide to play it safe and secure the DNF following... Full suspense is there for this last event : Morgan and I are ont he same time slot and Morgan with a nice 151m takes the lead on this disciplin. I follow him not far with a 142m. Christophe is not able to come back to us in is last heat.
With these results, I win the Massy competition overall ranking and finish first for the second time of the season. Well done !
That's with no doubt a good sign for the competitions to come, and for my possible selection to the AIDA team world championships that will take place in Okinawa/japan this year
A lots of good performances for this massy competitions, you can find the full results at this link :
http://www.apnee-attitude.com/compte-rendu-3e-manche-de-la-coupe-de-france-championnat-regional_article_42.html
For the Swiss indoor championship, I arrived with a very low motivation due to 2 months of intense training.
This low motivation had finally an important impact on my performances despite the good spirit of this competition.
After a 'small' 6'18'' that rank me 3rd of the Static, I miss my DYN after hitting the wall twice during the performance (the pool had no line mark,T under the freediver). I finally ended up the DNF with a missed dive : samba and protocol missed after a performance around 170m...
Finally, Michael Naef, take this good opportunity to win the competition. Well done Dude !
In the end, this competition will serve me to to focus more on what I do, and go back to basics... Good lessons learnt !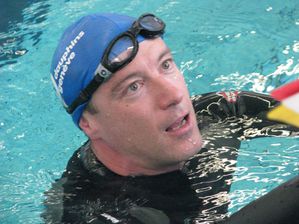 Credit Photo Alison Chabloz
Soon I will be in Nimes for my most probable last Indoor competition of the season...
Stay tuned !