Depth diving under-ice... That was the program for this first ever organized new style competition.
We decided to go for this competition some months ago, with Guillaume Nery, to have good time and fun and to change ourselves from our 'classical' depth competition.
Depth was limited to 52m, due to the lake maximum depth of 54m. Finally not so much, but, in regards to these special icy conditions, the challenge still remains.
In my case, I unfortunately did not found buddies to train in cold waters these last weeks. I was then lacking references and depth training. But as said, the goal was more to have fun than really 'perform'.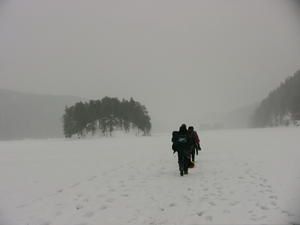 I must say that we had a lot of fun:
The place, a frozen lake close to Oslo was beautiful. Snow everywhere covering the thick Ice (around 60cm), and a superb landscape of hills and forest around.
It was snowing both days, and we had to walk 20 minutes to reach the ice holes.
The freezing part was close to the lake : a 15cm layer of 1°C water was covering the ice, and we were literaly walking in this water... that of course was filling up our boots...
The conditions looked rough, but we were all laughing from this...
The ranking was giving an advantage to CNF, as a 1.35 multiplying factor was applied on these performances. On 3 performances, only the best one was counting for the final ranking....
I finally did 50m in CWT (with a 52m announcement, early turn ...), 52m in FIM and 42m in CNF. The first dive was a bit annoying due to some equalization problems linkedto my wetsuit that sticked my ears, but the 2 other ones were pure pleasure. I was surprised to feel so well in this 1°C water, even down there in the 'night' (the lights were not working properly). I really enjoyed these dives a lot. Guillaume as well apparently.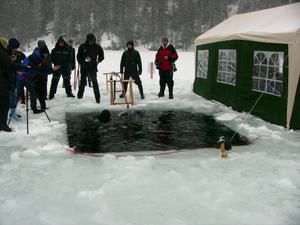 As we did the same depth with C. Ernest a 'frozen viking static', in the cold water, was organized to determine the 2nd and 3rd places. I quited the static fight at 3'38'', a bit earlier than c. Ernest that finally won the 2nd place.

Finally the ranking is:
1st : Guillaume Nery with 45m CNF ( 52m CWT, 52m FIM)
2nd : Christian Ernest - Sweden - 42m CNF (35m CNF, 40m CNF)
3rd : Christian Maldamé - 42m CNF ( 50m CWT, 52m FIM)


2 guys, Stig and Thomas, tried to dive without wetsuit... They were able to dive, but finally not to reach their announcements of 52m. Both of them turned earlier, around 20-30m. But we were impressed by the 'show' ! Stig was kind of frozen after his dive ;-)
The only 'brave' girl of the competition was Elizabeth Kristoffersen that did all of her dives, and finally won the female contest !
After the competition, Elizabeth found us a place to practise cross country skiing. With Stig, Martin, Dan, Guillaume and Elizabeth. We had a lot of fun together skiing and enjoying the ski tracks of Oslo. In Oslo, you easily take the subway to go to ski (downhill and cross coutry 10 minutes from the center ! ), which was kind of amazing for us.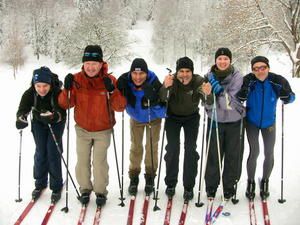 Here are some links to discover new pictures/movies and articles... Media and Press largely covered this 'new' event :

Diaporama : http://pa.photoshelter.com/c/felixfeatures/gallery-slideshow/G0000Ec2A8DfBADU/?start=
Newspapers :
http://www.telegraph.co.uk/sport/othersports/swimming/4967486/Worlds-first-under-ice-free-diving-competition.html
http://www.thesun.co.uk/sol/homepage/news/article2310789.ece
http://www.independent.co.uk/sport/general/others/freediving-sport-taken-to-a-new-extreme-1642100.html
Stig's dive... No wetsuit ! : http://www.youtube.com/watch?v=-zMi6boeWSY
Martin's blog :http://martin-gk.blogspot.com/