Initial start of the season : good time and results
First test of the season , the 'Coupe des dauphins 2009' is always a good way to comeback to competition after the winter break.
A good way to go back to training after the christmas period, that is not a particular 'sporty' time
Coupe des Dauphins 2009 - Geneva/Switzerland - 24/25 January

This edition was once again a full success. A top organization by Nadya Foisy and Mario Merazzi, A good help from numerous members of the club and also on my side concerning the site and web aspects (registration forms and so on).
Freedivers from the all Europe made the trip to Geneva, even if this year was not as full as last edition 2008.
The level was here, and one could not let it go to be able to get a podium.
On the side of some nice performances from Nicolas Guerry in STA, from Betty wolfer in DYN, or from Joanna Massacand in STA, the Buzz of the competition came from this guy registered as David M,
that made an easy astonishing 8'36'' in STA and got disqualified by a stupid hand shake from his coach... This guy announced performances of over 10' in Static and nobody knew him !! After a careful study of the case, we found some veryvery strange information about him :
http://www.merlini.com/Site/Main.html

This guy is with no doubt a great magician, but, the freediving community is still wondering if this a 'real' freediver. For those interested, you can find interesting discussion on the subject on this forum :
http://forums.deeperblue.com/freediving-competitions/81749-8th-coupe-des-dauphines.html
On my side, the goal was more to test myself after a 3 months break, to be able to have serious references for the season. On this aspect I must say that it was a success. Without serious training, I did quite serious performances, and that clearly motivated myself to go further and go back to serious training.
To sum-up, I did :
133m in DNF, 175m in DYN, and 6'11' in STA... Which is quite good according to my training !
And I finally win DNF, DYN, and the overall ranking, which really satisfied me in the end
On the Women side, Jarmila Slovencikova (World champion on CNF 2007) wins the DYN and the overall ranking.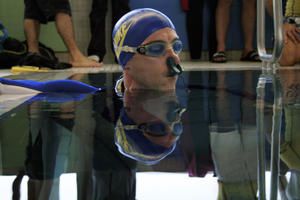 This nice picture is by Jerome Vigoureux Pelletier

All participants once again fully appreciated this very well organized competition.
the final rankings are available here :
Overall ranking

Ranking by discipline
After the comp Jarmila, Elizabeth and Martin stayed at home. And we had the pleasure to freedive in the lake and have a sauna together, followed by a very local 'fondue'. The next day we even went cross country skiing with Jarmila in the jura (tchec women are very good in this sport...). Good relaxing time and fun sport gave us a full recovery after this competition
Salon de la Plongée (Diving exposition) - Paris/France - 10/11 January


This 2009 edition was a good place to find back the all french national team, but also a big part of the french freediving and scuba diving world.

Unfortunately. I must say that the exhibition that we planned was not really well organized by the salon organization. And we finally had to find another way of making the show... We finally ended-up with a static competition between Guillaume, Morgan and myself to give some fun for the spectators !

The rest was just good time with people and a nice party on saturday night ;-)