Worlds 2008 : first day of competition : Constant Weight
I posted the full annoucements of the 2 days of Constant Weight in the picture Gallery...
Check it for the references.
For this first day of competition the suspense was incredible.
And here are the results and stories of the ' top scorers'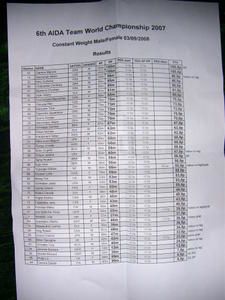 For the French :
I do a succesful 85m, come out with a strong narcosis, but still make a good protocol.
Guillaume turns earlier at 98m (instead of 100m) and scores 95 points. He felt very bad this day and was very hard at the surface...
Solenn does a clean 50m dive.
Finally good points for the french team this first day, especially because at the same time :
William Truebridge misses his attempt to 90m !! Incredible, as he made the World record to 87m in No fins, he turns at 88m and grab the line 3 times... 30 points less for them !
on the side :
Nicolas Guerry does a clean 70m dive
Joanna Massacand 36m and Claudia Rollero a succesful 48m.
The greeks do 2 very nice dives to 100m (Giankos Manolis) and 85m making a lot of points.
As well as the Tchecs. Martin Stepanek does an easy dive to a 100m.
And next day is a big day ... Morgan will try 80m for the french team to take the temporary first place of the competition.
Dave Mullins, natalia Molchanova ... are entering the game. No joke !