After 2 days of training only... We did our announcements some minutes ago.
The suspense is full, we are waiting for the start list, wondering what the other nations might have announced !
28 nations are finally present for this contest.
In the definitive french team here are the announcements :
Guillaume 100m
Christian 85m
Morgan 80m
Julie 60m
Solenn 50m
Francine 50m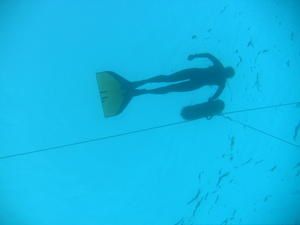 Just a small comeback to the trainings.
2 days for me, Morgan and some of us. A very short time to reach our best performances, and be fully adapted to depth.
For this reason, we had to stay safe and try not to focus to much pn what we wanted to do, but more on what our body could support.
Guillaume did safe dives to 100m
Morgan went to 80m
I did a good 85m
I was supposed to try 90m in the morning, but an unfortunate event cancelled my dive : my monofin, unproperly attached to the boy went away with the waves and the current and was lost :-((. Very bad, the fin I am training with since months, somwhere in th redsea...And no spare fin to use.
Some people gently borrowed me a fin for the dive that i had to reduce to 85m due to that.
And I still have to find a fin for the competition... Bad, very Bad.
for the rest, I saw Martin Stepanek (CZH) diving clean to 100m, William Truebridge (NZ) diving clean to 93m and Natalia Molchanova (RUS) to 85m.
Woooff, very good level for these athlets that will lead their respective teams
and now, the competition is open, the start will be tomorrow morning 9AM...
Stay Tuned !