AIDA French National team selection
The 21st and 22nd of June, AIDA France was organizing the AIDA French National selection for the next Team World Championship.
This selection were taking place in Nice, and were organized by Gregory Piazzola with the help of the CIPA.
We were a bunch of freedivers that came for these selections. The weather was perfect.
The selections were based on a CWT performance to be made during the 2 days.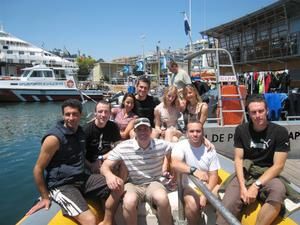 on this picture (courtesy Greg. Piazzola), you can recognize (from right lo left 1st rank first) : Morgan Bourch'is, Gregory Piazzola, Cyril Paulet, christian Maldamé, Patrick Poggi, then Francine Kreiss, Berangère Duclos, Guillaume Nery, Julie Gautier.
Missing on the picture : William Winram.
After the bad weather conditions of May and June, a few of us were not so well trained. But, the level was here.
For these selections, the more important was to be clean and safe. So everybody played it safe
Here are the official performances realized :
| | | | |
| --- | --- | --- | --- |
| Name | Perf. announced | Perf realized | Points |
| Morgan | 72m | 68m | 63 |
| William | 80m | 76m | 71 |
| Patrick | 75m | DQ | 0 |
| Christian | 70m | 70m | 70 |
| Francine | 44m? | 44m | 44 |
| Berangère | 38m | 38m | 38 |
| Julie | 55m? | 55m | 55 |
We had good time and fun all together.
During the 'fête de la musique', we went in a restaurant in the Old Nice, and enjoyed some good icecreams.
And here are the final results of the selection :
for the women:
Berangere Duclos, Julie Gautier, Francine Kreiss, Solenn Launay
for the men :
Christian Maldame, Guillaume Nery, Morgan Bourc'His, William Winram
Due to their nowadays results (season 2008), Berangere Duclos and Guillaume Nery are now the "alternate athlete". The final alternate athletes will de designated in Sharm El sheik.
We are a good team, almost the same as in 2006 (bronze medal in Hurghada)...And Now ... Let's go to Sharm el sheik !