I arrived on Sunday and began my first training on monday...
After almost 5 month of depth break, I wanted to play it safe and go back to training step by step.
some cool training to begin and increasing tests.
I am expecting to go back to my level of end of october which was around 92m in Constant weight (maybe more) and 64m in Constant no fins.
But anyway, I will be happy if i can reach 80m in CWT and 55m in CNF. Depth is not so easy to accustom, time plays an important role for the body to be ready again to high pressure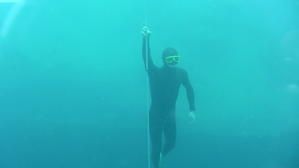 Monday I did 50m
tuesday I did 60m
Wednesday I did 70m...
Promising improvement made with fins coming back in Free imersion.
Thursday is dedicated to some technical work. I finally find that i am missing my past feelings and automatism.
I definitively need to work that out seriously.
After That, With Guillaume and Julie, we decided to go spearfishing. As the swell is huge outside, we could not spearfish out of the barrier :-), obliged to stay in shallow water (3m max.).
A funny session, spend looking for rocks full of lobsters... final catch is small, but some good time together !
Tomorrow will probably be a rest day as my nose is blocked by a sinusitis !